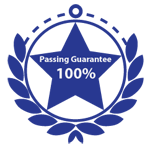 Home Inspection Educational Seminars (HIES) is committed to helping candidates become successful  Licensed North Carolina Home Inspectors through the use of our Pass The Test course.
Did you know that the average passing grade of candidates taking the North Carolina State License Exam for Home Inspectors is less than 50% for those that did not take a preparation class? For those that have taken a course like our Pass The Test seminar, the passing rate increases to over 85%.
At HIES, our classes are taught by active Licensed North Carolina Home Inspectors. They run for two days, rather than the one-day option preferred by other firms. Our course has been offered over 150 times since state licensing began, and has have been taken by over 2,500 students. With a 212 page study guide, a 284 page text book, and an open discussion format, you can have confidence in the quality of our Pass The Test program.
Best of all, HIES offers a Passing Guarantee Program. If you do not pass the exam after taking our Pass The Course class, you may attend another seminar at no additional cost within the same licensing year.
Pay for one seminar and attend as many classes as you need for free.
Learn more about our Pass The Test. Then select the upcoming class that is most convenient for you.
For more information, please call 919-608-3742, email info@homeinspectionedu.com or our fill out our online form to the right.